Best ERP Systems
Find the Best ERP Systems (Best Enterprise Resource Planning Software) for your business. Compare product reviews and features to build your list.
Find the Best ERP Systems (best Enterprise Resource Planning Software) for your business. Compare product reviews and features to build your list. Please Click for Detail reviews: Capterra
Oracle, SAP, Microsoft Dynamics, Sage, IFS, Odoo, Epicor, Apteani Compiere, Openbravo Retail ERP
Enterprise Resource Planning Software Buyer's Guide
Introduction
Enterprise resource planning (ERP) represents a methodology of best practices for standardizing business processes across an organization. This logic assumes that standardization will result in increased organizational efficiency and a significant return on investment.
This guide provides an in-depth comparison that businesses can use to help find the best ERP software for their business. ERP solutions have been around for some time, but the software experienced a spike in popularity during the 1990s due to the proliferation of personal computers in businesses.
Organizations usually implement these systems for several reasons:
Integration of financial information
Integration of customer order information
Standardization of manufacturing processes
Reduction of inventory and reduced overhead costs
Standardization of Human Resources information
Unifying all this data in one platform helps organizations find a "single version of the truth," which just means that numbers provided in company reports can be trusted regardless of what department they come from.
Enterprise resource planning software is licensed in modular form, which allows customers to choose functionality based on the needs of their organization. Implementation can be a long process, sometimes taking multiple years.
When comparing ERP companies, it's important to remember that changing the habits of an entire organization to fit with the system you choose will almost definitely be a challenge. Customization options exist for this software, but too much customization can lead to more headaches as new software releases unravel the custom-built patches. Implementation costs have also been historically high. A reported 90 percent of projects go over budget.
However, several studies have shown that when implemented correctly (that is, with a focus on ROI) organizations gain significant benefits. According to a 2014 study by Nucleus Research, ERP investments, on average, return $7.23 per dollar spent.
While ERP solutions have traditionally been large software suites that encompass every aspect of the business, newer more nimble competitors have driven most of the growth in the market over the past several years.
This signals a fundamental change in the ERP market.
The ERP Software Vendors Market
The historical limitations of legacy-style systems have sparked innovation in four specific areas: flexibility, cloud-enabled, inter-enterprise, and e-commerce. Innovation in these areas has been driven by smaller, innovative companies that are experiencing far higher market growth than their legacy counterparts.
According to a 2013 Gartner report, companies such as Workday, Cornerstone, and NetSuite have been growing with unmatched speed. However, these organizations still don't boast enough market share to warrant a place on Gartner's overall pie chart.
Here's how the 2013 market looked according to Gartner: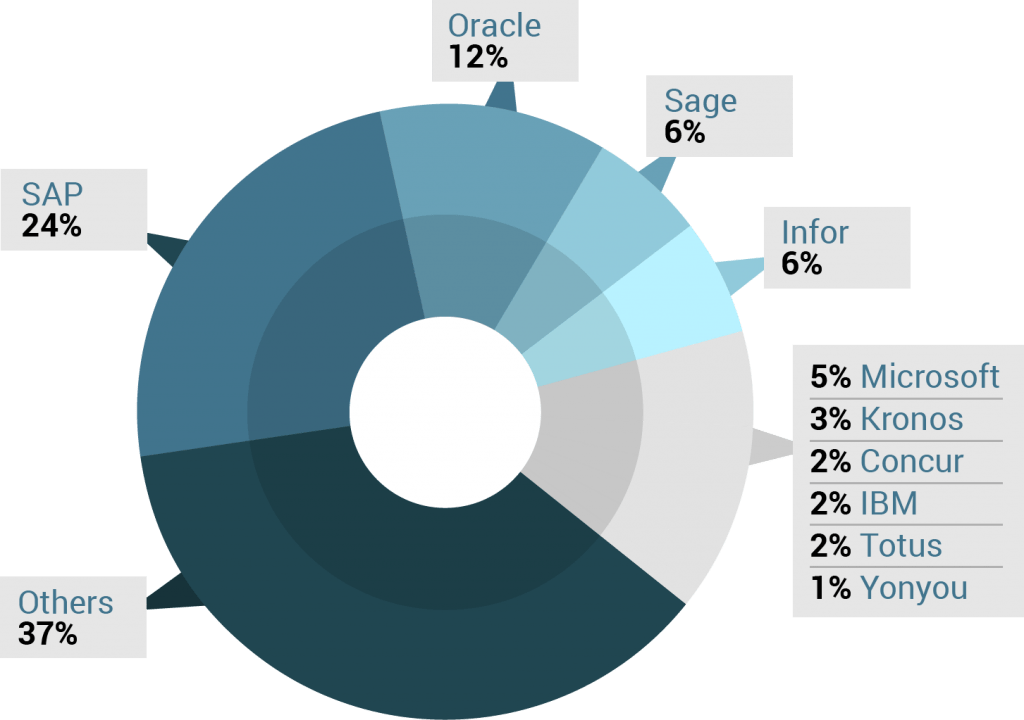 The top ten market players have not changed much since 2013, with SAP, Oracle, and Microsoft Dynamics 365 leading the pack with a combined share of over 40 percent in 2016, according to Panorama Consulting.
The rise of cloud computing ERP software vendors has contributed greatly to the accelerated growth in this software market. The initial average implementation cost continues to hover around five percent of total revenue for the top 10 leaders, with cloud ERP solutions requiring much less in the way of on-boarding costs.
As it stands now, the market is segmented into three tiers: enterprise, mid-market, and small business. Industry specific needs, like in manufacturing or e-commerce, are certainly important considerations, but the vast options available through each ERP product make it impossible to differentiate the market based purely around industry.
Top ERP Companies (By Niche)
Tier 1: Enterprise Resource Planning
ERP software was originally designed for huge organizations that were losing money and suffering from productivity loss because of large-scale disorganization. The software offered enterprises a way to standardize their internal processes by connecting information systems. Organizations of this size have already found success; the key is to remain coordinated.
Products at this level offer a myriad of features.
Due to the complexity of each software platform, and even each module, the products are structured according to "best practices" which are essentially guidelines for how the vendor believes each business process should be performed. These best practices also extend to industry verticals, such as consumer foods, manufacturing, aerospace, and so on.
This structure isn't unique to enterprise; it's a factor for medium and small businesses as well. That's why it's important to consider the impact these new processes will have on your organization when deciding which is the best ERP software vendor for your business. Many implementations fail because the system ultimately doesn't match the clients operating model.
Enterprise resource planning software automates so called "back-office" functions, such as order fulfillment, from the warehouse to the supply chain. However, front office processes like customer relationship management are now important features as well.
Products at the enterprise level also help manage assets outside the organization, such as relationships with third parties, or even secondary ERPs deployed at a regional level. More recently, the software has evolved from a recording system for transactional data to a true data management platform. This means analytics and workflow management features are becoming more common.
The number of business unit modules offered in these products is impressive, and should cover any and all departments within your organization.
Customer Services/Sales (CRM)
Procurement/Purchasing
Production
Accounting
Human Resources
Business Intelligence
e-Commerce
Enterprise asset management
Research and development
Case Study: ACH Food Companies Uses SAP to Pivot From Commercial to Consumer Focus
ACH Food Companies Inc. counts a number of consumer food brands among its product offerings, though the company itself remains largely unknown. An American subsidiary of Associated British Foods, ACH Food Companies dealt almost entirely with the commercial side of the food industry.
Up until recently, ACH was using a legacy system to manage its application landscape. This disjointed system was holding the company back from making the strategic acquisitions it needed to transition into a consumer-branded company.
ACH chose SAP ERP because of its ability to create an integrated set of transactional data across the organization as well as for SAP's specific consumer-food software.
ACH implemented SAP in two waves. The first began in 2007 and was completed in 2011, and the second wave of implementation was completed in 2014.
"With our SAP implementations, we've set the stage in terms of the future and where we want this company to be. For example, we're looking at one set of numbers – one version of the truth. We have a common terminology across the business and have issued our first set of company-wide KPIs," said ACH CIO Donnie Steward.
Key Benefits
20 percent reduction in finished goods inventory
75 percent less time for internal new-product initiation
25 percent reduction of close process, from 8 days to 6
ERP Vendor Comparison: Enterprise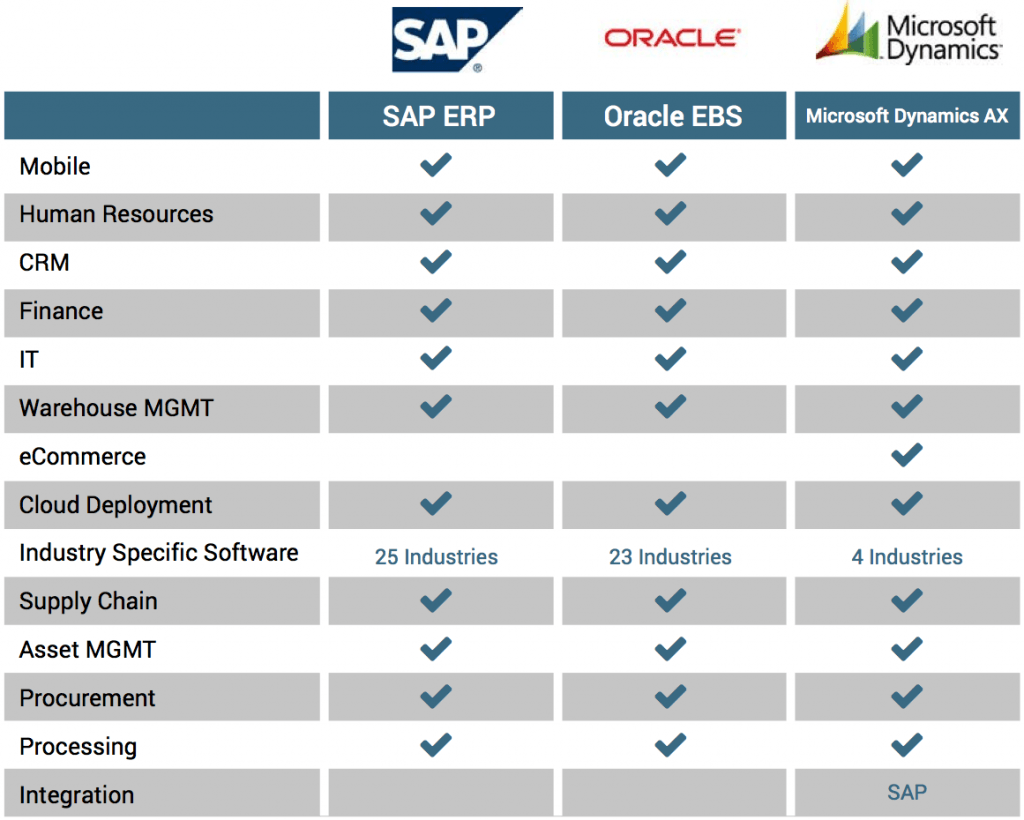 Comparison of SAP, Oracle, Microsoft Dynamics
Tier II: Midmarket ERP Solutions
Due to the exclusivity of Tier I vendors, the midmarket is where most of the current innovation takes place. Cloud-based Software- as-a-Service applications, for example, have gained more traction with midmarket organizations. The decreased cost of these platforms has actually lead to Tier II vendors gaining market share ground on Tier I vendors over the past several years.
A number of e-commerce companies also reside in the middle of the market, and these organizations don't require the manufacturing- heavy lean that a number of older players in the market focus on. E-commerce businesses differentiate themselves through the application of business intelligence and how quickly they can apply new insights to both customer-facing and employee-facing processes. While they have logistics to consider, they also must make their service more targeted than their peers.
In short, data visualization, data analytics, and process management are even more important for Tier II buyers. Manufacturing organizations make up a significant portion of this market, as well as a number of other niche verticals. Tier II vendors also offer industry-targeted modules and best practices similar to their larger Tier I competitors.
Case Study: Beyond the Rack Uses Netsuite Add-Ons to Save Hundreds of Hours Per Week
After starting from a single warehouse in Montreal, Beyond the Rack experienced rapid growth. Soon, it became too inefficient to keep using Excel to track supplier fulfillment, given their rapid, 48 hour online flash-sales model.
Beyond the Rack had been using Netsuite as its provider since 2010, but now needed to integrate a procurement application in order to scale their transactions with suppliers. Beyond the Rack began a pilot program with SPS Commerce, a Netsuite SuiteCloud Developer Network partner, in 2013. By adding SPS Commerce's capabilities to their existing Netsuite ERP platform, Beyond the Rack automated information sharing with 200 of their top suppliers.
"You're talking about hundreds of hours a week we won't have to invest – we'll be able to pick, pack, and ship much faster, and merchandise can come in and go out literally the same day," said Jim Weinberg, President and Chief Merchandising Officer at Beyond the Rack.
Key Benefits
Recouping hundreds of work hours per week
Same day packing and shipping
A data environment with significantly improved data accuracy
ERP Software Comparison: Midmarket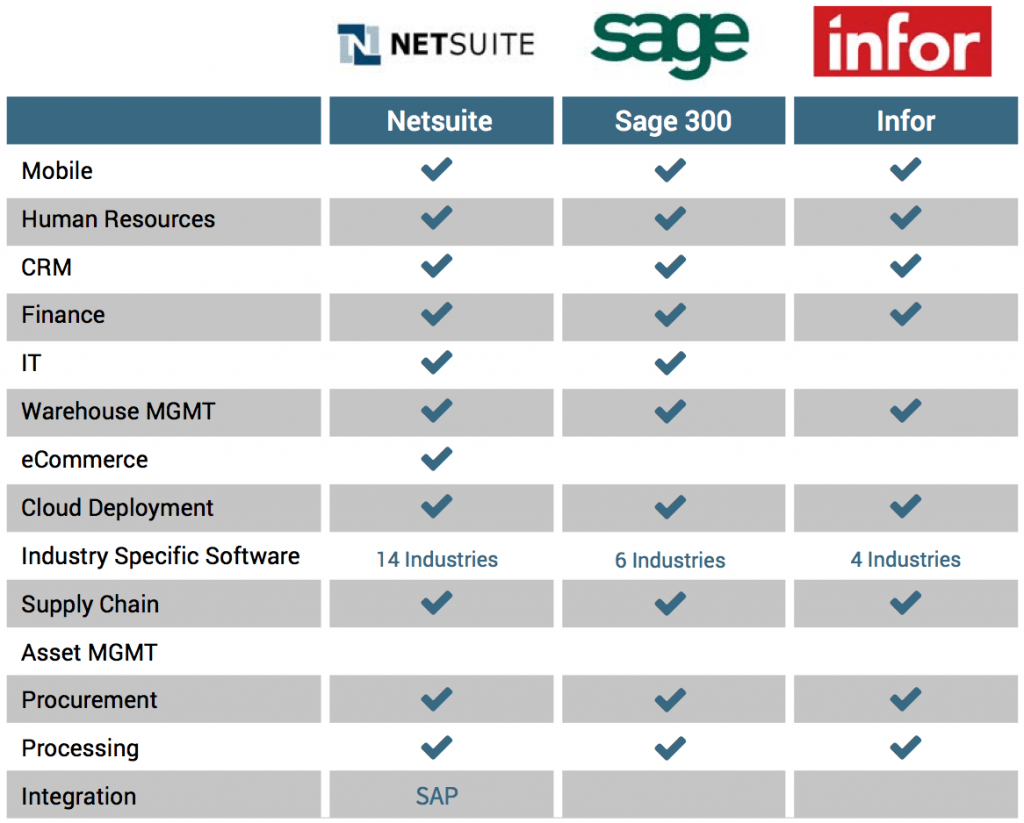 Comparison of Netsuite, Sage, Infor
Tier III: ERP Software for Small Business
Small businesses have often been left out of the ERP conversation. After all, the very name of the product implies that only companies operating at an enterprise scale could benefit. However, in this era of ubiquitous data, small businesses often need a centralized view of their information, particularly for financials, human capital, and customer transactions.
Midmarket and enterprise businesses can clearly benefit from cloud-based systems. However, small businesses likely have the most to gain from this new wave of subscription- based, remotely hosted solutions.
Why? Because now they can utilize the technology at a reasonable cost and with reasonable operational resources.
Since small businesses are by definition less complex than their larger competitors, the solutions targeted toward them offer less encompassing platforms.
While this may mean reduced functionality, it leaves room for improvements in other areas, such as user experience, mobile access, and more.
The key consideration for choosing an ERP software for small business should be growth: where will your organization be in the next few years? Can the solution keep pace with your business?
Case Study: Workday + TripAdvisor: Speed Wins
A spin off of fellow travel website Expedia, TripAdvisor knew it didn't want an on-premise system. Some of the staff members had first-hand experience with that kind of product at Expedia, and it didn't match the "speed wins" philosophy TripAdvisor now lived by.
As the company prepared to go public, TripAdvisor's CEO reflected on what the company needed in a solution:
"We looked at the options for different systems and thought, that's one way to do things, but what's the innovations? Give me the web interface. Give me the simple-to-use. Give me the customized home page," said CEO Stephen Kaufer.
When TripAdvisor looked at Workday, it seemed like a perfect match. Deployment for Human Capital Management took five months. Financial Management took seven months. Both were on time, on budget, and executed as predicted.
TripAdvisor now processes payroll directly from their HR department, which is precisely the type of agility the company was looking for.
"We went live with Workday on April 1 and closed second quarter as a public company on the Workday system, financials integrated with HR. We were able to get an early flash of the numbers. We were able to do deeper analytics – less wait time and more thinking time," explained CFO Julie Bradley.
Other Benefits Gained:
Global and mobile capabilities used in over 20 countries
Elimination of costly and cumbersome software upgrades
Improved employee engagement and reduced training and support costs
ERP Software Comparison: Small Business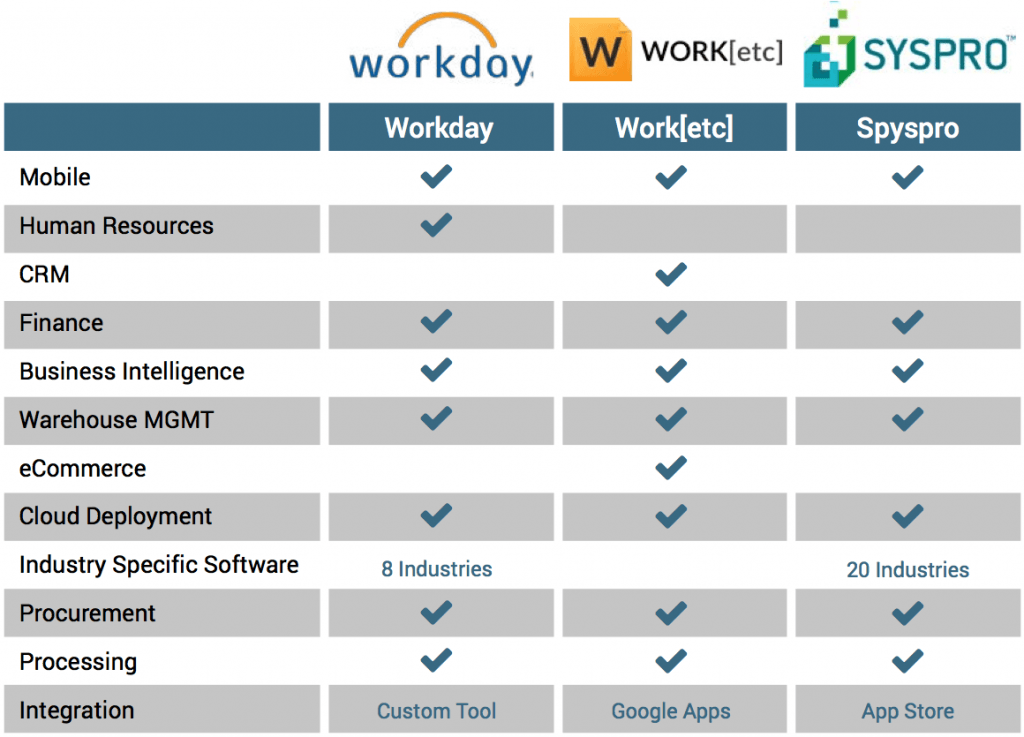 Comparison of Workday, WORK[ETC], and Syspro
Current Trends and Innovations
Like with any other software model, innovation drives market growth, overall adoption, and competition among ERP software companies at any level. Hybrid cloud models and mobile capabilities reflect the general software trends towards usability, portability, and enhanced security.
Hybrid/Cloud Model
As the midmarket and small business ERP software segments suggest, cloud-based solutions are responsible for much of the current growth in the market. The large Tier 1 ERP companies have cloud offerings of their own, but they can't always compete with the agility of smaller vendors like Workday. Consequently, a two-tiered approach is emerging in many large and even midmarket organizations.
This means using a hybrid deployment of cloud and on-premise software, sometimes from different vendors. A two-tier system may be utilized in the same environment at a multinational headquarters or the cloud system could be implemented at regional levels around the globe while the on-premise system remains at HQ. This allows for increased data security on some levels, while still giving regional divisions the flexibility they need to innovate.
Mobile
With the increasing presence of mobile devices in the workplace, mobile access is becoming more common – in many buying scenarios it's even expected. Mobile solutions help distribute data more quickly across organizations of all sizes, which allows more informed decisions to be made at every level.
Businesses should consider the ramifications of mobile access, however. Proper security measures should be set in place at a network level to ensure that proprietary data are protected from physical security threats, such as lost or stolen devices.
Choosing a Solution
The ERP buying process is complex, filled with customization requests and uncertainty about vendor capabilities. Seeking out third-party help for implementation is common, and in the case of Tier I vendors, usually necessary.
Employing similar help makes sense for product research as well. TechnologyAdvice is a market leader in connecting software buyers to the solutions your business actually needs. Our resources include unbiased, in-depth examinations of technology markets, and we have an entire staff of knowledgeable product experts who will help you narrow down your search to the best options for you.
Contact a Tech Advisor today or use our Product Selection Tool above filter solutions based on your criteria.